Reception Ceremony of an MRI Machine and a Neurosurgery Microscope funded by the French association "Malte-Liban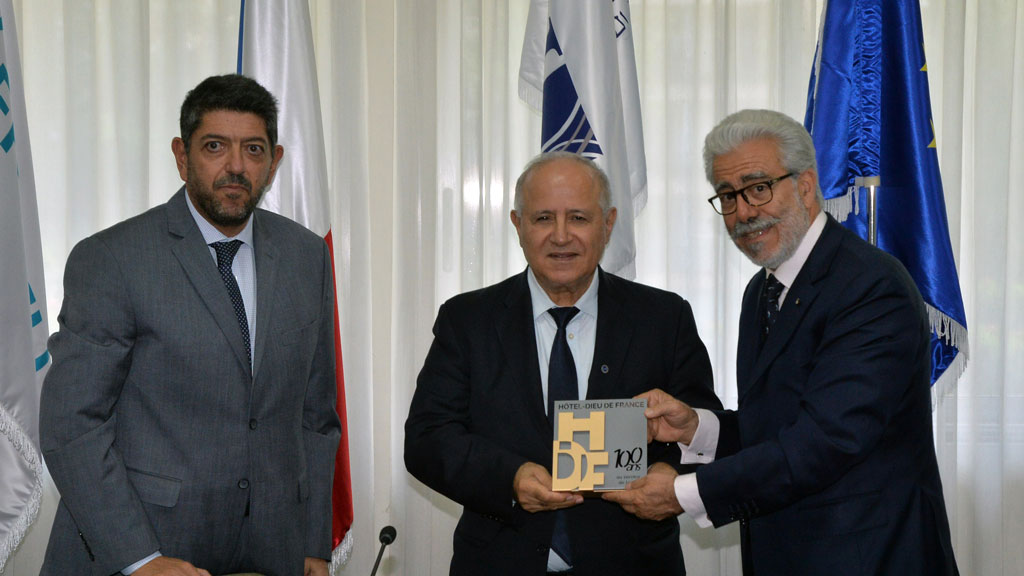 On October 6th, Hôtel-Dieu de France organized a ceremony to celebrate the acquisition of two state-of-the-art medical equipment: an MRI machine and a neurosurgery microscope. This equipment was generously funded by the "Malte-Lebanon" association, based in France, and will benefit vulnerable patients receiving care at the primary health centers of the Order of Malta in Lebanon.
The ceremony was attended by Reverend Father Rector Salim Daccache S.J., Chairman of the Board of Directors of HDF, Mr. Albert Kfoury, President of the French association "Malte-Liban," Mr. Marwan Sehnaoui, President of the Order of Malta Lebanon, Mr. Pierre Anhoury, representative of the Ministry of Health, as well as representatives from the French Embassy. Representatives from GME and Benta companies, members of the Board of Directors of Hôtel-Dieu de France and the strategic council of USJ, as well as directors and heads of departments of HDF, were also present.
Mr. Nassib Nasr, General Director of the USJ-HDF hospital network, opened the ceremony with his speech. Mr. Nasr expressed his deep gratitude to the "Malte-Liban" association for their generosity and unwavering support. He stated that this medical equipment are not just instruments but also symbols of hope, perseverance, and solidarity.
Several individuals spoke during the ceremony. Mr. Albert Kfouri emphasized that over a thousand patients have benefited from this cooperation since the beginning of 2023, gaining access to free hospital care. He expressed deep gratitude towards the French donors who made this possible and praised the remarkable cooperation that has been established.
Mr. Marwan Sehnaoui stated that through God and common values, "our two hands applaud together, and we will prevent the despair of the people and the death of Lebanon."
Reverend Father Rector Salim Daccache S.J. shared his immense joy in experiencing this day together, not only because they received two instruments of great importance but also because there are patients who will benefit from the care provided by HDF's medical team.
The ceremony concluded with a presentation by the Radiology Department, highlighting the importance of the quality of the donated machines and the history of the department. The guests then had the opportunity to visit the MRI room, where they could closely observe this state-of-the-art equipment that ensures superior medical care for its patients. A reception followed to celebrate this occasion.